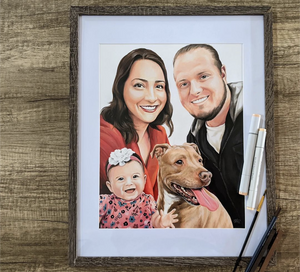 This year I am excited to be opening a limited amount of spots for Family Portrait Commissions!
To reserve a spot in 2023 it is $200. Please note, this is not final pricing for your commission. Your $200 today will go towards your final total after your portrait design is discussed. (Different factors play into portrait pricing: sizing, style, amount of family members/subjects, reference photos, etc.)
After your reservation is purchased, I will reach out via email to discuss your family portrait details, options, final pricing, and estimated turn around.
Family Portraits are hand drawn and painted on 8x10, or 11x14 Heavy Weight Bristol Paper using mixed media (Pencil, Pastels, Paint, Chalk, Marker). Other sizes and options are available as well (digital, canvas, watercolor, etc). Completed family portraits will be shipped to you matted and framed.
All custom commissions are final/No Returns.